08.11.2022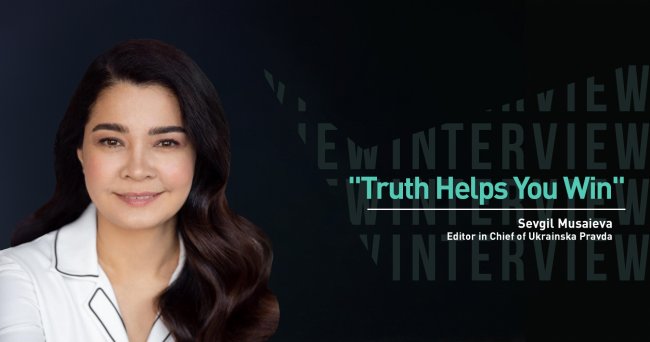 Time's most influential innovator shares how her team is getting ready for the tough winter in Ukraine.
Early in the morning, when it was about to start Russia's full-scale invasion of Ukraine Sevgil Musaieva woke up, just 20 minutes prior to Putin's announcement of the infamous 'special military operation' and 40 minutes before the start of the full-scale invasion. Seven months later she would already be named one of the world's 100 most influential People of 2022 by Time magazine, and she would already experience grief and everyday struggle for survival as a journalist covering the war in her homeland.
"I was asking myself, what can I do? because it was understandable that it would be an existential war, it would be a war for the right of our country to exist and I understood the right answer to this question is my profession. Because Journalism plays such an important role during the war and during the crisis"- she tells me.
I met Sevgil at an international media conference in Tbilisi, Georgia. A country where 20% of its territory is occupied by Russia and has been invaded by Russian forces several times. We both know what it's like to be a journalist in a country facing threats from the Kremlin every single day.
Sevgil is editor-in-chief of Ukraine's one of the biggest independent online media outlets "Ukrainska Pravda". It was co-founded by Georgian-Ukrainian Journalist Georgy Gongadze in 2000. 6 months later he was killed.
Sevgil has been attending media conferences and explaining the real situation of the war since the 24th of February while leading a team of journalists and working nonstop on the coverage of the full-scale invasion. I managed to find a silent room at the crowded conference venue to have a conversation with her. Sevgil recalls the first days of the invasion, shares her point of view on international coverage of the war, and tells us the stories of how journalism helped save lives.
You are probably the best person to ask this question right now. What is the role of journalism in war?
I remember how in the first days of the war with panic, with everything, people were afraid to go to the bed without news, they were afraid to go to sleep without understanding "what will be tomorrow morning", it was fear and panic.
And I know how easily people can be manipulated because I remember it was the 28th of February, unfortunately, the southern part of our country was already captured by Russians and I received a call from a friend of mine from Mariupol and he asked only one question, "Is Kyiv surrendered already?" and I was trying to explain that "No" but unfortunately people in Mariupol knew from occupiers that Kyiv was already surrendered, everyone surrendered and Russians also captured other regions.
You as a journalist can just provide information and information means a lot. I know thousands of stories of people, who were without news, without connection and then they suddenly had this connection and they texted their relatives, their mothers, and fathers, with only one simple message. They didn't ask about the political situation, they only texted: "I'm alive, Everything is okay, we escaped occupation" - the simplest words in the world.
But journalists can also help people and it was with me during this war, it was not only about providing information, it was about the evacuation of people from occupied territories, and it was also about even providing food.
For example, I remember the first days of the war when one prenatal center in Kyiv asked me "could you please ask our mayor, we can't reach him, our women don't have food" and you have this short connection, it was only one hour and the situation was okay, so we provided food.
It literally helped save lives. Sometimes, unfortunately, it does not. Sometimes you can't help, you can do nothing and you also feel guilty about such situations but in situations when you can help, you help.
You just recalled the moment when the full-scale invasion started. What was the first decision as editor-in-chief of "Ukrainska Pravda"?
No panic. I asked my team not to panic, of course, it was difficult and very challenging because people were thinking about their relatives, their kids, and their own safety.
I remember the first editorial meeting I organized that morning at 11 AM and I said just one simple sentence: "We need to do our best because if Ukraine will be defeated, there will be no "Ukrainska Pravda", no state, just nothing, we'll lose our country" — that's why we did our best, we are working 24/7, providing information, providing help with humanitarian aid because in the first days of the war in Kyiv it also was a big problem and I remember how one of the authorities told me that hunger could help occupiers and I remember how I wrote thousands of businessmen in Kyiv and other regions, they provided food, tons of bread and other products.
In the beginning, many people thought that Kyiv would be captured, you probably had the chance to leave, what made you stay?
You know, after seven months of the war, only two members of our team left Ukraine. One went to university, he became a student, and our editor left because she has young kids, and has to take care of them. It was her decision as a mother because you have to decide what's your role in this. Are you a soldier, are you a journalist, are you a citizen, are you a mother? and it's an extremely complicated and very difficult choice for each Ukrainian.
Part of our team stayed in the western part of Ukraine and when it became safer in Kyiv all of our team decided to come back. It was actually my decision to relocate the team because I was thinking 'in case of a blackout, we will not have access to the internet, without electricity we will not be able to do our job' and that's why I decided to relocate our team and it helped us but as soon as there was a chance to come back the whole team returned to Kyiv.
Of course, we think about a security plan for this winter because winter will be very difficult for Ukraine. Russia will attack our electricity plants, our energy sector, and critical infrastructure so we have a security plan, I don't want to mention a lot of details but we should be ready that we will provide news no matter how difficult it will be.
What is something you learned about your profession during these difficult times?
I have three important takeaways from this war. The first one: be with people, the second one: do not harm, and the third one is: truth helps you win. I can explain each one.
Be with your people
— at the beginning of the war I started every single day with one short message for the audience and my readers "how are you?" people wrote thousands of responses and it helped not only them but also gave us information about critical points in different regions because you can imagine, it's a frontline of two thousand kilometers, you can't explore and cover everything.
For example, I learned that Kherson was already seized by the Russian army from our readers because they sent me a video of Russian tanks that already occupied important buildings in the city. The main point is that we are still in connection with these people and they text me every single day from occupied territories. They are the only source of information, they share stories with us about repressions, referendums, and jails that Russians opened in occupied territories.
The second one is don't harm
— during the war mistake measures human life, and you need to think about it. I don't even want to describe all the difficult decisions we have made during this war because sometimes it literally measures human life.
The third one, truth helps you win
— this war is not only about the right of our country to exist, it's not only the war between future and past, it's not only the war for the future of democracy but it's also a war between truth and lies.
We see how Russia uses propaganda tools every single day, and at the same time, as an independent journalist, you have your principles, you have your rules, and you follow them. Meanwhile, Russia does absolutely terrible things. They lie every single day. They lie even about the victims of their attacks. For example, they killed more than 1000 civilians in Bucha, Borodyanka, and other places. And they lied that Bucha was staged. They lied that it was Western propaganda.
And it is painful, you know the truth because in Bucha they killed a 70 years old unarmed man, the father of your colleague. And in Irpin you lost your classmate. My friend, documentary filmmaker Brent Renaud was killed by Russians in Irpin at the beginning of March and he was the first American citizen who died during this war. This is really sad, but only truth helps you and only truth gives us this important support from the Western audiences, from Western partners, because they see that we don't use this practice. We follow rules, we follow principles. We fight for freedom of speech and for democracy and it makes the difference between us and between Russians and they understand it.
Covering the war in your own country and facing grief on a daily basis can be tough, how do you deal with these emotions as a journalist?
I think that you can't hide your emotions. Of course, I have a kind of an agreement with myself that, I will think about every single trauma I received during this war after it finishes, but it is hard because I already lost four of my friends during this war, among them colleagues.
And that's something you cannot accept. It's not statistics. Every single story, every single destiny is important. I think that what helped me go through this is also empathy. Without empathy, I think it will be difficult, because, you have to feel this pain, you have to be with people.
I understand that if I tell the story of every single victim of this war, it'll never be just the statistics.
what is the main challenge for Ukrainian media right now?
Just to survive. It's the main challenge for our country and for us too, of course, we struggle with our financial models, it's difficult times for us, and thanks to our readers, thanks to our donors, we are able to continue our work.
The second one, of course, you have a difficult decision every single day about whether you are a citizen or are you a journalist, and I understand a lot of my colleagues who left their jobs and went to the front line and joined the army. Even our colleagues from "Ukrainska Pravda" joined the Army. They were brilliant journalists, but they decided that they would be more effective and useful on the battlefield, and it's a tragedy of this war because Ukraine loses brilliant people in this war. Ukraine loses artists and journalists, Ukraine loses the soul of our nation, brilliant people who can continue to create, continue to protect.
I will never forgive Russians and Russia because they stole our future.
What is the connection with Russian Journalists? Did it change?
No. of course, I have some colleagues, and even when they ask something I can respond to them but I feel a lot of pain and for me it's uncomfortable.
They lost their profession in their country because all independent media in Russia is closed or escaped country and they now are located in other European cities, they're not able to continue to do a job in their own country.
Was there anything you think would've been better if journalists in Ukraine were prepared for before the full-scale invasion?
No one could imagine what would happen, the brutality and the size of this war. I've never imagined it. I think that maybe if we had more protection, and equipment, it would have been much easier because, at the beginning of the war, a lot of Ukrainian journalists didn't have protection. They didn't have the best helmets or anything and a lot of European companies, donors, and organizations sent us this equipment and we were able to continue our work. So it was a big problem and it is strange that after eight years of war we were not ready and there was not enough equipment.
Does "Ukrainska Pravda" try to access the Russian audience to break through the disinformation wall?
We continue our Russian version coverage. A lot of Ukrainian media outlets closed the Russian version after the beginning of the invasion. We understand that it will be the wrong decision because still a lot of Russian people read our coverage from different territories. So we have the Russian version and people can visit it and use it. So, no other collaboration projects with Russian journalists or launching other media. We don't have that plan.
When you're covering the war you see the flood of disinformation and you got to be fast, but also accurate. How do you manage that?
We have our rules and principles, and we published them, It's a public document, and we follow those rules and principles on a regular basis. Of course, disinformation plays an important role, and we've had this experience for the last eight years. We live in circumstances of an informational war already, and this experience helped us. We learned a lot from the last eight years. We also have a lot of sources of information. We have a lot of authorities that can even unofficially explain things and we have a lot of soldiers, and militaries on the front line, and they provide us with information from the field.
If we receive some information from different sources. We check it, and we verify this information with different sources, so as many sources we have, it's better.
The Time magazine named you one of the most influential people of the year, what this title has changed for you?
Nothing, nothing. Of course, I'm joking that now I have photos with Hollywood stars but thanks to this opportunity because it gives me now the chance to speak about Ukraine and to explain the real situation. So it helps and I do my best because it's a big responsibility to have the opportunity to speak on behalf of your country and all Ukrainian journalists.
You definitely observe international coverage of the war, President Zelensky always tries to keep the focus on the war, how would you assess the coverage of the war in international media?
At the beginning of the war, there were more than one thousand journalists in Ukraine, and they covered this war from different regions. A lot of them came to Lviv where it was a safe place.
At the same time, I understand that the main source of information, for example, for American authorities, even for President Biden, was not "Ukrainska Pravda", I know that in the State Department they read "Ukrainska Pravda", and they trust us. But President Biden learns news about Ukraine from The New York Times, The Washington Post, and The Wall Street Journal maybe, and it's very important to keep attention on Ukraine and keep Ukraine on the front pages.
I'm very happy that this year, a lot of international media organizations opened their offices in Ukraine. The Washington Post launched its bureau. The Wall Street Journal and The New York Times will open and I'm happy that they, unfortunately, as a result of this brutal war international media have changed the lens they watched Ukraine before because they saw Ukraine from the Russian lens, they usually opened bureaus in Moscow.
When I have an opportunity, and I know a lot of international journalists and foreign reporters, I'm trying to explain some things, I'm trying to explain, correct wording. For example, no word "separatist". No words like "separatist territories" and other stuff and they actually listen.
Georgians understand what is going on right now in Ukraine to some extent because we have kind of similar experience with Russia. What would you say to Georgian journalists?
First of all, don't be afraid is the main motto of these times. It personally helps me every single day. The second one — you have to be ready to work in critical situations. You need a security plan, equipment, and a plan for the relocation of your office. It literally helps to survive and to save lives.
How can other journalists help Ukrainian media right now?
To tell the truth about the war in Ukraine. Maybe show solidarity with Ukrainian journalists and maybe write stories about Ukrainian refugees.