11.07.2021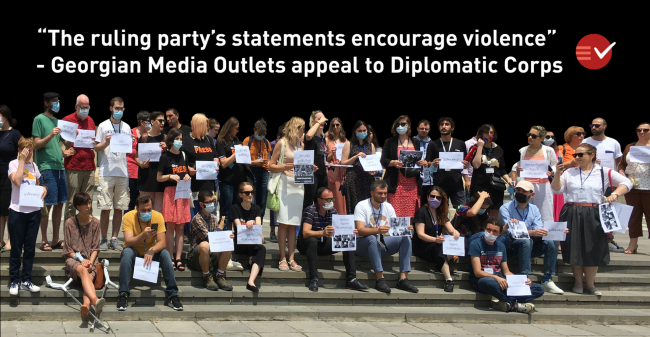 Cases of violation of the rights of media representatives in Georgia have reached a critical level. Dozens of cases against the media are still uninvestigated. The authorities fail to ensure the safety of journalists, while the statements by the officials of the ruling party encourage the violence even more.
On July 5, 2021, during a demonstration against the "March of Dignity", members of a violent group deliberately attacked the media representatives, subjected them to physical and verbal abuse, and deliberately destroyed their equipment to obstruct their journalistic activities.
Despite the preliminary calls from the civil sector, the state has not taken appropriate measures to protect the media representatives. Insufficient police forces did not take measures to protect the journalists. Moreover, on July 5, before the start of the government session, the Prime Minister of Georgia, Irakli Gharibashvili, laid the responsibility not upon the members of the demonstration but the organizers of the "March of Dignity" for the possible complication of the situation and called them not to hold the march on Rustaveli Avenue.
According to the Ministry of Internal Affairs, on July 5, 53 members of the media were injured, including the operator of TV Pirveli - Aleksandre Lashkarava, who was severely beaten by violent groups on July 5. Aleksandre Lashkarava died on July 11.
Part of the media representatives still remain in the hospital. Members of various violent groups continue to openly threaten journalists and cameramen, to which the law enforcement agencies do not respond accordingly. The organizers of the violent demonstration of July 5, whose identities are not known, have not been arrested either.
It should be noted that most of the facts of the attacks on journalists, obstruction of media activities and violence happened in the past have not been investigated so far and the issue of responsibility of the organizers of the violent groups has not been outlined.
We appeal to the representatives of the diplomatic corps and international organizations accredited in Georgia to respond immediately and effectively to the purposive persecution of media representatives on Rustaveli Avenue on July 5, the facts of damage to health, obstruction of professional duties and inaction of the Georgian government.
Signatories:
Mtavari
TV Formula
Rustavi 2
Tabula
Imedi TV
Kavkasia TV
The Charter of Journalistic Ethics
Adjara Public Broadcaster and Radio
Georgian Public Broadcaster
TV Pirveli
Express News
FaxInterNews
Artarea TV
Studio Monitor
Georgian Times Radio
Fact Check
AT.ge
Media Development Foundation
Border Zone
NNLE Media and Communication Educational and Research Center
Radio Voice of Abkhazia
Radio Dardimandi
Alternative Professional Union of Adjara Public Broadcaster
Media Holding Hereti: Radio Hereti FM102.8, Radio Tbilisi FM93.5,
Radio Citrus FM97.3
Radio Dzveli Kalaki
Georgian Regional Radio Network TV
Company New
OC Media
Eco-Fact
Radio Holding Fortuna
SOVA
Batumelebi
Newsreport
On.ge
Netgazeti
InterPressNews.ge
Blog SocReactive
TSpress.ge
Radio Atinati
Metronome.ge
Publika
Civil.ge
Internews-Georgia
Media.ge
Openrustavi.ge
Palitranews;
Radio Palitra
Radio Marneuli
Euronews Georgia
FirstNews.ge
Kutaisi Today
Speqtri.ge
Cnews
Media Holding "Qronika +
" Droa.ge
Accentnews.ge
Popmusic.ge
Popsport.com
Gurianews.ge
Tok TV
Media rights
Journalism Resource Center
Agrogaremo
TV Alliance of Regional Broadcasters
Radio Green Wave
Radio Imedi
Commersant
JAMNews
Reginfo.ge
DailyInfo.ge
News Agency Front News
Front News International Kiev Office
ifact.ge
ipress.ge
tv25
Guria TV
Metskhre talgha
okribanews
newpost
pia.ge
digest.ge
funtime.ge
tbiliselebi.ge
exclusivetv.ge
GHN
geodigest.ge

Europetime.eu

ოდიში TV

გურიის მოამბე

Dianews

report.ge

AliQ Media

Info Rustavi

მეგა TV

DiaNews

Radio Mozaika

Dia TV

NewPress.ge

Timer

Radio WW

Chemi kharagauli

QvemoQartli.ge